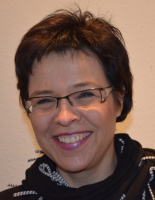 From 1992 to 2003 Ulrike Peter was a member (since 1998 the head) of the research group "Griechisches Münzwerk" (Ancient Greek Coins) at Berlin-Brandenburg Academy of Sciences and Humanities (BBAW). Since 2007 she is involved in the project "Census of Antique Works of Art and Architecture Known in the Renaissance".
Her research and publications focus on Thracian coinage and on the perception of ancient coins in the Renaissance.
In research group (B-4) Spatial Identity. Ulrike Peter studies the coins of the ancient city Philippopolis in Thrace with a special consideration of municipal identities.
Activities
Talk

Part of: Ein vergessener (H)ort der Antike. Numismatik im Zweiten Weltkrieg

Speaker

Lecture

Part of: Topoi im Museum

Speaker

Event

Eröffnung der Ausstellung des Münzkabinetts der Staatlichen Museen zu Berlin am 15. Oktober 2015

Organiser

Talk

Part of: Kulturraum Thrakien: lokale Münzprägung und regionale Identität

Speaker

Talk

Part of: Kulturraum Thrakien: lokale Münzprägung und regionale Identität

Speaker

Conference

Organiser

Talk

Part of: Meeting of the Key Topic Identities — Think Tank

Speaker