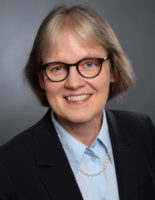 Cosima Möller studied law at the Georg-August-Universität Göttingen and the Albert-Ludwigs-Universität Freiburg between 1980 and 1986. Under the auspices of a doctoral fellowship from the Volkswagen Foundation she completed her doctorate degree in 1989 with the dissertation "Freiheit und Schutz im Arbeitsrecht – Das Fortwirken des römischen Rechts in der Rechtsprechung des Reichsgerichts" at Institut für Römisches und Gemeines Recht in Göttingen, under supervision of Prof. Dr. Okko Behrends. After six years as research assistant (wissenschaftliche Assistentin) in Göttingen and a grant by the Deutsche Forschungsgemeinschaft (DFG) she obtained her Habilitation in 2000 with the venia legendi for Roman law, civil law and the recent history of private law. Cosima Möller's habilitation thesis deals with a main institute of neighbour law, the servitudes and their development history in Roman Law, as well as their function and dogmatic structure, with an outlook in the ius commune and in modern German civil law (Thesis Title: 'Die Servituten. Zur Entwicklungs-
geschichte, Funktion und Struktur der grundstücksvermittelten Privatrechtsverhältnisse im römischen Recht. Mit einem Ausblick auf die Rezeptionsgeschichte und das BGB'). After consecutive semesters as a private lecturer at the Georg-August-Universität Göttingen and substitute professorships at the Ludwig-Maximilians-Universität München and the Freie Universität Berlin, she became professor of civil law and Roman law at Freie Universität Berlin in August 2003. From April 2010 till March 2013 she served as Faculty Vice Dean followed by Deanery from April 2013 to March 2015.
Cosima Möllers research areas range from the Roman antiquity with a special focus on contract law, property law and questions of legal method and the influence of Greek philosophy in Roman law to the 'reception' of Roman law, the ius commune in the jurisdiction of the German Reichsgericht from 1879 to 1900, as well as current civil law. Her research and her publications concern subjects of contract law, property law and consumer protection law.
Since 2007 Cosima Möller has been a member of Topoi and the project leader of B-1 (Surveying and Limitation). She is Topoi spokesperson of research group
(B-1) Routes-Water-Knowledge
. She is also involved in the Area A with the project
(A-3-4)  Water from a legal perspective
. Her research focuses on the use of water as a resource in light of Roman law (A-3-4) and the surveying and limitations of land from juridical, gromatic and political perspectives (B-1-4). Please take a look at the description in detail under the special projects.
For further information please visit Cosima Möller website on
fu-berlin.de
Activities
Lecture

Part of: Die Spätantike – eine expandierende Epoche?

Speaker

Talk

Prerrequisitos y funciones de la distribución de textos legales en el Imperio Romano

Part of: Wanderung und Migration von Handschriften auf der Iberischen Halbinsel während der Römischen, Westgotischen und Islamischen Zeit

Speaker

Workshop

French-German workshop

Organiser

Talk

Part of: Wasser – Wege – Wissen auf der iberischen Halbinsel

Speaker

Talk

Part of: Nutzung und Umnutzung von Grundbesitz, Gebäuden und Infrastrukturen im römischen Imperium und danach: Historische, rechtshistorische und archäologische Perspektive

Speaker

Workshop

Organiser

Talk

Uso y derechos de aguas de vecinos en el Digesto de Justiniano

Part of: Wasser – Wege – Wissen auf der iberischen Halbinsel

Speaker

Talk

Elementos del derecho de aguas romano - lex y natura, servitus y vetustas

Part of: Wege – Wasser – Wissen auf der iberischen Halbinsel vom Römischen Imperium bis zur muselmanischen Herrschaft

Speaker

Talk

Part of: Thursday Meeting: Keytopic Water Management

Speaker

Talk

Part of: Römisches Vermessungswesen. Juristischer, wissenschaftsgeschichtlicher und historischer Kontext

Speaker
Further Activities
29.06.2015 Talk "Grundlagen privater Wassernutzung im römischen Recht", auf Einladung der Göttinger Vereinigung zur Pflege der Rechtsgeschichte e.V. an der Georg-August-Universität Göttingen.