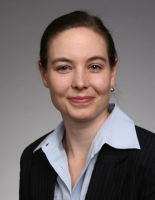 Jenny Schlehofer studied Classical Archaeology, Prehistoric and Protohistoric Archaeology and Ancient History. In 2014 she received her doctorate in Classical Archaeology at Humboldt-Universität zu Berlin with the dissertation: "Die Nekropolen der Polis Halieis in der südlichen Argolis. Rekonstruktion und Interpretation der Bestattungs- und Beigabensitten in archaischer und klassischer Zeit / Necropoleis of the Polis Halieis (Argolid). Practices of Funerary and Grave Goods During the Archaic and Classical Periods".
From 2015 till 2017 Jenny Schlehofer has been a post-doctoral fellow in the Topoi research group (D-5-5) Between knowledge and innovation: The unequal armed balance. She focused on the archaeological analysis and interpretation of the different types of unequal armed balances, in particular on development, dating and distribution of these special balances. Therefore, she was intensely engaged in steelyards found in the Roman forts of Saalburg, Feldberg, and Zugmantel.
Since November 2017 Jenny Schlehofer is member of the subproject "Palaeogenetic Investigations Into Kinship of the Necropolis at Halieis (Argolid)" within the Topoi research project "Genealogy and Genetics. The Making of Stability".

Based upon recent aDNA-analyses of the remained skeletons the project examines to which extent genealogical structures determined the organisation in Greek necropoleis as well as the appearance of the burials and the selection of grave goods. In a diachronic and supra-regional comparative perspective the focus lies especially on the question if in periods of historic stability or – associated with war incidents or demographic changes – instability the spatial or rather symbolic representation of genealogical structures within an urbanised necropolis remained constant or changed.

Activities
Workshop

Participant

Workshop

Participant

Workshop

Participant
Further Activities
2018 Conference 8th International Symposium on Biomolecular Archaeology (ISBA), Max Planck Institute for the Science of Human History, Friedrich-Schiller-Universität Jena
Participant
2018 Conference 19th International Congress of Classical Archaeology (AIAC), "Archaeology and Economy in the Ancient World", Rheinische Friedrich-Wilhelms-Universität Bonn
Participant
2018 Conference "Family Revisited: Antike Familienstrukturen zwischen Kontinuität und Wandel", Universität Hamburg,Institut für Archäologie und Kulturgeschichte des antiken Mittelmeerraumes
Participant
2017 Conference "Grab・Denk・Mal", Universität Tübingen, Institut für Klassische Archäologie
Participant
2016 Lecture "Eine Brautausstattung in den Nekropolen von Halieis. Bestattungs- und Beigabensitten in der Argolis in archaischer und klassischer Zeit"
Part of: 

"Archäologisches Kolloquium zu griechischer Kunst und Kultur", 

Freie Universität zu Berlin, Institut für Klassische Archäologie
Speaker
2015 Section I "Römische Produktionsweise und praktisches Wissen"
Part of:  Annual convention of Deutsche Gesellschaft für Geschichte der Medizin, Naturwissenschaft und Technik e.V. (DGGMNT) and Gesellschaft für Wissenschaftsgeschichte (GWG)
Chair
2015 Lecture "Zubereitung und Verzehr von Leichenschmäusen innerhalb der Nekropole von Halieis. Saßen die Trauernden auf den Gräbern und schmausten?"
Part of: "Nekropolen und Grabrituale im antiken Griechenland", German-Greek Colloquium for Ph.D students of Deutsches Archäologisches Institut at Athens
Speaker
2015 Conference "Selinunte: Stato della ricerca e prospettive future",
Part  of: International Workshop of Deutsches Archäologisches Institut, Abteilung Rom and Parco Archeologico di Selinunte in Museo Nazionale Romano at Rome
Participant
2014 Lecture "Keramikforschung am Winckelmann-Institut der Humboldt-Universität zu Berlin"
Part of: "Von Kreta nach Kuba. Etappen des Archäologen Veit Stürmer", Colloquium in commemoration of Dr. phil. Veit Stürmer at Winckelmann-Institut of Humboldt-Universität zu Berlin
Speaker
2010 Presentation "Preparation of Meals Within the Necropolis at Halieis"
Part of: "Ceramics, Cuisine and Culture: The Archaeology and Science of Kitchen Pottery in the Ancient Mediterranean World", International Colloquium at British Museum in London
2009 Lecture "Zwei kleine Grabbezirke in den Nekropolen von Halieis"
Part of: "Griechische Grabbezirke klassischer Zeit – Normen und Regionalismen", International Colloquium at Deutsches Archäologisches Institut in Athens
Speaker
2005 Conference "Cibo per gli uomini, cibo per gli dei. Archeologia del pasto rituale", Piazza Armerina / Italy
Participant
2004 Lecture "The Pottery from the Archaic and Classical Graves at the Polis Halieis"
Part of: "Argive Ceramics 1000 B.C. – 500 A.D. in the Context of the Peloponnese", International Conference at Porto Cheli/ Greece
Speaker/ Organiser