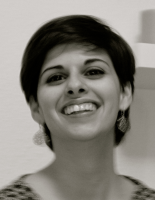 Flavia Licciardello studied classical philology at the University of Bologna. Currently she is a doctoral fellow in the Topoi research group (
C-1) Deixis and Frames of Reference
 and working on her thesis with the title "Communicative strategies in new context: from verse inscriptions to literary epigrams".
Her project focuses on dedicatory epigrams from the Hellenistic era. Her aim is to analyse the use of deixis and frames of reference both in actual verse inscriptions and in Hellenistic literary epigrams of an inscriptional type.
This Ph.D. thesis is being written within the program

 
Ancient Languages and Texts
 (ALT) of the Berlin Graduate School of Ancient Studies (BerGSAS).
Activities
Talk

Part of: Into new Frames

Speaker

Workshop

Decontextualisation and Transmediality in Ancient Literatures

Organiser

Talk

Part of: Öffentliches Doktorandenkolloquium des Exzellenzclusters Topoi und der BerGSAS

Speaker

Reading Group

Organiser
Further Activities
28.1.2016 Talk Deixis and Frames of Reference in Dedicatory Epigrams
Part of: EAGLE 2016 international conference on digital and traditional epigraphy in context , Sapienza, University of Rome, 27-29 January 2016
Speaker
27.8.2015 Talk Nossis' autoepitaph: analysing a controversial epigram
Part of: Sapiens Ubique Civis III, University of Szeged 26-28 August 2015
Speaker