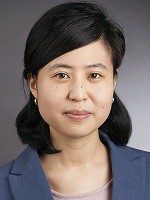 Hi-Cheong Lee is a doctoral fellow of the research group (C-2) Space and Metaphor and participates in the PhD program "Ancient Languages and Texts" (ALT) of the Berlin Graduate School of Ancient Studies (BerGSAS).
She studied Protestant theology in both Berlin and Jerusalem. In 2013, she completed her first theological examination. Since October 2016 she has been an assistant at the Institute of the New Testament at Kiel University (CAU), Germany.
Her current research project concerns Metaphors of "Two-Ways" in Early Christian Literature.
Activities
Reading Group

Organiser

Workshop

A workshop in the study of metaphors in ancient and medieval texts

Organiser

Talk

Humboldt Graduate School, Luisenstraße 56, Festsaal

Part of: Vortragskolloquium der Doktoranden des 3. Jahrgangs

Speaker

Winter semester 2014/2015

Reading Group

Participant

Reading Group

Participant

Workshop

Einführung in die Wort-für-Wort Glossierung mit praktischer Übung

Participant

Talk

Part of: Space and Metaphor in Cognition, Language and Texts

Speaker

Winter semester 2013/2014

Reading Group

Participant
Further Activities
27.7.2017 Talk Vergleich des markinischen Weg- und Nachfolgekonzepts mit der Zwei-Wege-Metaphorik
Part of: The Colloquium Biblicum Lovaniense 2017 – Reading the Gospel of Mark in the twenty-first century. Method and Meaning
Speaker