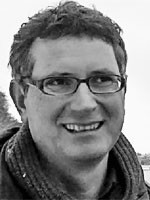 Werner Kogge is a philosopher and lectures at Freie Universität Berlin. After receiving a Ph D with a thesis entitled "Die Grenzen des Verstehens" he was awarded a post-doctoral fellowship from the Institut für Wissenschafts- und Technikforschung, Bielefeld, a research fellowship by the University of California, Berkeley and researcher in diverse research projects at Freie Universität Berlin.
His research interests focus on the topics practice/ knowledge ( culture techniques, materiality of action, conceptions of experience), science and technology ( theory of experiments, philosophy of biology, bio-technology) as well as foreignness/ identity/ culture (differences) in historical and systematical perspective.
At the Excellence Cluster Topoi he is coordinator of the Topoi Lab Area B and responsible for theoretical and methodological connections, particularly regarding the reinforcement of cooperative work within area B on the one hand, and regarding the networking within the areas on the other.
Responsibilities
Activities
Colloquium

Organiser

Talk

Part of: Meeting of the Key Topic Identities — Think Tank

Speaker

Workshop

Part of: Espresso Workshops

Organiser

Talk

Part of: Übersetzen in Altertum und Altertumswissenschaften – Methoden, Praktiken, Phänomene

Speaker

Workshop

Part of: Espresso Workshops

Organiser

Seminar

Organiser

Talk

Part of: RAUM . Topoi Jahrestagung 2015

Speaker

Talk

Part of: Ancient Sources and Constructivism. Eine konstruktivistische Perspektive auf die Antike?

Speaker

Workshop

Organiser

Talk

Part of: Groß Bauen. Großbauten und Großbaustellen von der Antike bis zur Gegenwart

Speaker

Winter semester 2015/2016

Seminar

Organiser

Workshop

Part of: Espresso Workshops

Organiser

Workshop

Part of: Espresso Workshops

Organiser

Talk

Part of: Ancient Identities and Modern Identification: Space, Knowledge and Representation

Chair

Workshop

Organiser

Workshop

Part of: Espresso Workshops

Organiser

Seminar

Organiser

Talk

Part of: Autorität in antiker Religion und Wissenschaft. Akteure & Repräsentationen

Speaker

Winter semester 2014/2015

Workshop

Sprache - Bild - Diagramm

Organiser

Winter semester 2014/2015

Meeting

WiSe 2014/15

Participant

Conference

Kartographische Identitätskonstruktionen in den Altertumswissenschaften

Chair

Talk

Part of: Terminologien in antiker Wissenschaft

Speaker

Workshop

Participant

Meeting

SoSe 2014

Participant

Lecture Series

Organiser

Workshop

Einführung in die Wort-für-Wort Glossierung mit praktischer Übung

Participant

Lecture

Part of: Topoi-Forum der Key Topics & Labs (WiSe 13/14)

Organiser

Meeting

Organiser

Meeting

Organiser

Talk

Part of: WISSEN - Topoi Jahrestagung 2013

Speaker

Meeting

Organiser

Meeting

Organiser

Meeting

Organiser

Winter semester 2013/2014

Meeting

(WiSe 2013/14)

Participant

Winter semester 2013/2014

Lecture Series

Organiser

Reading Group

Latour, Zirkulierende Referenz

Part of: Transformationen von Wissen

Organiser

Seminar

Organiser

Meeting

(SoSe 2013)

Participant

Winter semester 2013/ 14/2014

Reading Group

Organiser