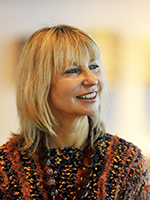 Viola König is director of the Ethnologisches Museum in Berlin and Honorary Professor for Precolumbian Studies and Cultural Anthropology at Freie Universität Berlin. Since 1992 she has been active within the museum sector, first as director of the Übersee-Museum Bremen (1992-2001) afterwards as director of the Department of Ethnology, Niedersächsisches Landesmuseum Hannover (1986-1992), and as curator at the Museum of Ethnology in Hamburg and Cologne.
Viola König curated and co-curated numerous exhibitions, such as the international exhibition projects "Aztecs" (Berlin 2003), "The Tropics – Views from the Middle of the Globe" (Rio de Janeiro, Brasilia, Berlin, Capetown, Bangkok (2008-2010), "Native American Modernism" (Berlin 2012). In Bremen she was responsible for the new Visible Storage Gallery "Übermaxx" that was opened in 1999.
After studying Precolumbian Studies, Anthropology and Prehistory in Freiburg and Hamburg, Viola König graduated from the University of Hamburg with a Doctorate Degree in Precolumbian Studies in 1978. She published widely on Mesoamerica and North-West America. Her research interests and scientific focus lies on Mesoamerican iconography and writings systems as well as the ethnography and material culture from the Pacific Northwest Coast of America.
Activities
Talk

Part of: Pictures and Texts - Pictures as Text

Speaker

Lecture

Part of: Ringvorlesung "Migration. Wanderungsbewegungen vom Altertum bis in die Gegenwart"

Speaker

Lecture

Part of: Topoi im Museum

Speaker

Talk

Part of: Kartographie in der Antike und in den Kulturen des Vorderen Orients

Speaker

Colloquium

Part of: Mapping Colloquia

Speaker

Talk

Part of: The Coixtlahuaca Valley in Oaxaca, Mexico

Speaker

Talk

Part of: The Coixtlahuaca Valley in Oaxaca, Mexico

Speaker

Conference

Current Research in Archaeology, History, Ethnology and Document Analysis

Organiser
Further Activities
07.05.2015 Lecture Besiedlung und Migration in Mesoamerika – Mythos und Modell
Part of: Ringvorlesung zur Mesoamerikanistik IV: Die Quellen des Wissens zu Mesoamerika. IV. F.5 – Geisteswissenschaften Kulturgeschichte und Kulturkunde, Universität Hamburg
Speaker
10.04. 2015 Lecture In the Realm of the 'Interlocked Serpents'. Mesoamerican centers as metaphorical and real places of memory in the Codices
Part of : In the Realm of the Vision Serpent: Decipherments and Discoveries in Mesoamerica.  A Symposium in Homage to Linda Schele. California State University, Los Angeles 
Speaker