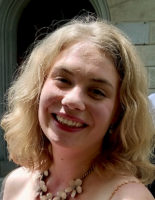 Elisabeth Guenther studied classical archaeology, classical philology and biology at Johannes Gutenberg-Universität Mainz where she received a Master degree in 2014.. She then received a scholarship by the Excellence Cluster Topoi. In November 2014 she began working on her PhD-project "Comic Space. Communication and Interaction on Comedy-related Vases from South-Italy and Sicily" ("Der Komische Raum. Kommunikation und Interaktion auf unteritalischen Komödienvasen") at the Institute of Classical Archaeology at Freie Universität Berlin and is being supervised by Prof. Dr. Johanna Fabricius. Her Ph.D. thesis is being written within the Topoi research group (C-1) Deixis and Frames of Reference: Strategies of Perspectivation in Language, Text, and Image and the PhD program "Ancient Languages and Texts" (ALT) at the Berlin Graduate School of Ancient Studies (BerGSAS).
Elisabeth Guenther focusses in her research mainly on the iconography and history of ancient theater performances as well as interdisciplinary studies, such as the adaption of modern theoretical approaches to ancient sources of different media, including epigraphy and numismatics. A second research field is the public representation of imperial women of the Severan dynasty.
Activities
Conference

Organiser

Talk

Part of: 10 Jahre Exzellenzcluster Topoi – Neue Perspektiven auf die Alte Welt

Speaker

Talk

Part of: Pictures and Texts - Pictures as Text

Speaker

Talk

Part of: Into new Frames

Speaker

Workshop

Decontextualisation and Transmediality in Ancient Literatures

Organiser

Talk

Part of: Öffentliches Doktorandenkolloquium des Exzellenzclusters Topoi und der BerGSAS

Speaker
Further Activities
28.05. 2016 Talk Bildelemente der Interaktion und Kommunikation als Entschlüsselungshilfen für Vasenbilder mit Komödienszenen." ("Pictorial Elements of Interaction and Communication as a Visual Guide in Vase-paintings with Comedy Scenes.")
Speaker
12.04.2016 Talk Surpassing Gender Roles? Images of Imperial Women in the Severan Dynasty (3rd century AD)
Part of: International Symposium on Historical Studies of Women and Gender in the Global Perspective, Shanghai Normal University, China.
Speaker
23.01. 2016 Talk Die Götter müssen verrückt sein – Transgression und Transformation von Rahmen (frames) auf unteritalischen Komödienvasen
Part of: 12th meeting of the AG Etrusker und Italiker, Deutscher ArchäologenVerband, Hamburg, "Keramik der Etrusker und Italiker"
Speaker
18.06.2015 Talk Femaleness Matters: Identity and Identification Processes in the Severan Dynasty
Part of: Workshop "Valuing Roman Identities" at the Institute for the History of Ancient Civilizations (IHAC) of the Northeast Normal University Changchun, China
Speaker
30.03.2015 Talk Invertierte Hierarchien? Kommunikation und Interaktion mittels olympischer Götter auf der Komödienbühne ("Inverted Hierarchies? Communication and Interactions of Olympic Gods on the Stage of Greek Comedy")
Part of: Göttinger Nachwuchsforum (conference for young researchers) "Per aspera ad astra – Soziale Hierarchien und ihre Praxis in der Antike" of the Institute for Ancient History of the Georg-August-Universität, Göttingen
Speaker
17.07.2013 Talk Von Gattinnen und Göttinnen. Die 'First Ladies' der römischen Kaiserzeit" ("Wives and Goddesses. The 'First Ladies' of the Roman Empire")
at the Römerhalle Bad Kreuznach (Museum of Roman Archaeology)
Speaker