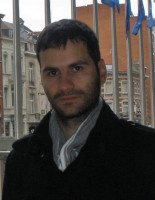 Thanasis Georgakopoulos is a Marie Curie BeIPD Cofund Postdoctoral Fellow at the University of Liège (ULg). He is working on a project entitled "Lexical Diachronic Semantic Maps: representing and explaining meaning extension" (abbr. "Le Diasema"). He holds a BA in Greek Philology, and a MA as well as a PhD in Linguistics from the University of Athens, Greece. In his dissertation entitled "Diachronic Semantic Analysis of the Ancient Greek Allative Preposition eis: A Cognitive Perspective," he traces the semantic development of eis relying on the analytical tools of historical and cognitive linguistics.
In the past, he held various academic positions at the Aristotle University of Thessaloniki (Greece),  the Excellence Cluster Topoi, the University of Münster and the University of Kassel. As of 2012, he has taught various courses on semantics, pragmatics, historical linguistics, cognitive linguistics, and Linguistics and Archaeology.
During his two postdoctoral fellowships at Topoi (2012-2016), he has  carried out extensive research on the linguistics of space. Among other things, he has addressed the phenomenon of the Source-Goal asymmetry from a diachronic perspective. He also  investigated the different meanings associated with body part lexemes in Ancient Greek and Latin and analysed the underlying motivations for the observed associations.
His current research interests focus on Historical Semantics, Lexical Typology, Semantic Maps, Linguistics of Space, Event Perspectivation, Empirical methods, and Construction Grammar approach to the semantics of motion verbs.
Activities
Talk

Part of: Figuration as a Line of Argument

Speaker

Talk

Part of: 10 Jahre Exzellenzcluster Topoi – Neue Perspektiven auf die Alte Welt

Speaker

Workshop

Organiser

Workshop

Organiser

Lecture

Organiser

Lecture

Organiser

Winter semester 2014/2015

Seminar

Organiser

Talk

Part of: Perspectivization in Language

Speaker

Talk

Part of: Perspectivization in Language

Speaker

Workshop

Source–Goal Asymmetry in Motion Events, Deixis, and Frames of Reference

Organiser

Meeting

Speaker

Reading Group

SoSe 2014

Participant

Seminar

The Rosetta Stone - online

Organiser

Workshop

Einführung in die Wort-für-Wort Glossierung mit praktischer Übung

Speaker

Winter semester 2013/2014

Reading Group

(WiSe 2013/14)

Organiser, Participant

Winter semester 2013/2014

Reading Group

Organiser, Participant

Seminar

Sprachentwicklung: Evolution, Wandel, Erwerb

Organiser, Participant

Workshop

Einführung in die Wort-für-Wort Glossierung mit praktischer Übung

Speaker

Winter semester 2012/2013

Reading Group

Organiser

Talk

Part of: Spatial Tuesday

Speaker
Further Activities
20.-22.07.2016 Talk Non-literal uses of motion verbs in Ancient Greek: Constructional and cultural motivations in semantic extension
Part of: 1st International Conference of Cultural Linguistics. Prato, Italy
Speaker
01.-04-07.2016 Talk Ancient Greek and Latin body parts in comparison: convergences and divergences
Part of: 11th conference of RaAM–the Association for Researching and Applying Metaphor. Freie Universität Berlin, Germany
Speaker
27.-28.05.2016 Talk Taxonomy of Semantic Changes in Ancient Greek and Latin Body Parts
Part of: Internal Workshop Research Group C-4. Potsdam, Villa Quandt
Speaker
12.14.05.2016 Talk The importance of Goal in synchrony and diachrony: semantic and syntactic aspects of the source-goal asymmetry in Homeric and Classical Greek
Part of: 37th Annual Meeting, Department of Linguistics, Aristotle University of Thessaloniki
Speaker
01.-03.08.2015 Talk Overt and zero marking of spatial relations in Cappadocian Greek: synchrony, diachrony, typology
Part of: 11th Conference of the Association for Linguistic Typology, University of New Mexico
Speaker
27.-31.07.2015 Talk  Source-Goal asymmetry in diachrony: evidence from Asia Minor Greek
Part of: Space in diachrony: asymmetries in the space domain and their developments, in the 22nd International Conference on Historical Linguistics. University of Naples
Speaker
20.-25.07.2015 Talk A constructional approach to the polysemy and use of motion verbs in Ancient Greek
Part of: 13th International Cognitive Linguistics Conference. Northumbria University, Newcastle, England
Speaker
24.25.04.2015 Talk From overt to zero marking of spatial relations: the loss of EIS in Asia Minor Greek as an informational load relief strategy
Part of: 36th Annual Meeting, Department of Linguistics, Aristotle University of Thessaloniki
Speaker
30.09-02.10.2014 Talk Priority of Goals in the representation of motion and non-motion events in German and Greek: evidence from corpora
Part of: 6th International Conference of the German Cognitive Linguistics Association. Universität Erlangen-Nürnberg: Erlangen, Germany
Speaker
25.-28.09.2014 Talk Cappadocia: where Greek prepositions come to die
Part of: 6th International Conference on Modern Greek Dialects & Linguistic Theory. University of Patras: Patras, Greece
Speaker
22.-24-05.2014 Talk A corpus-based contrastive analysis of German and Greek motion events: evidence for the imbalance between sources and goals
Part of: 6th International Conference on Corpus Linguistics. Universidad de Las Palmas de Gran Canaria: Las Palmas de Gran Canaria, Spain
Speaker