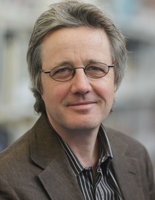 Christian Freigang is Professor of Architectural History at Freie Universität Berlin. His special interests concern the production, transformation, function, and perception of architecture and built spaces (sacred, liturgical, politic and urban) in the middle ages as well as in the 19th and 20th centuries.
One of his focusses is also on the history of architectural theory from the beginnings in antiquity up to now. Recent studies dealt with the relation between medieval acoustic signs (especially bells) and their urban visualization (bell towers), but also with the correlation between antijudaism and the creation of urban places in late medieval cities.
Within Topoi, his main topic is the interference of acoustic spheres – as they are created by noise, music and bells sounds – and the constitution of spatial structure and significance (juridical, social, transcendental) in the middle ages.
Activities
Talk

Part of: Standort Stadt - Alte und neue Positionen der Stadtforschung in den Altertumswissenschaften

Speaker
Further Activities
17.09.2015 Lecture Glockenklang und Glockenträger. Zur Interdependenz von Musik und Architektur im Mittelalter, sponsored by the International Center of Medieval Art (New York)
Part of: III Forum Kunst des Mittelalters in Hildesheim
Key Note Speaker