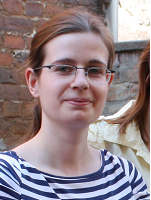 Franziska Desch is a doctoral fellow at Topoi. She studied ancient orientalistics at Freie Universität Berlin.
Her thesis is part of the program
History of Ancient Sciences (HistAS)
by the Berlin Graduate School of Ancient Sciences  and investigates the classification of medical plants which where mentioned in medical cuneiform inscriptions, in order to improve our understanding of ancient ideas of illness and healing.
Activities
Talk

Part of: De Materia Medica - Herbals and botanical classification from ancient and early modern times in cross-cultural perspective

Speaker

Talk

Part of: Öffentliches Doktorandenkolloquium des Exzellenzclusters Topoi und der BerGSAS

Speaker

Seminar

Part of: Greek and Babylonian Medicine

Speaker

Conference

Organiser
Further Activities
15.04.2016 Talk The So-Called Therapeutic Vademecum
Part of: 5th Oxford Postgraduate Conference in Assyriology, Oxford, UK
Speaker