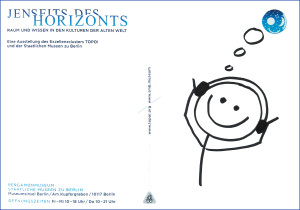 For our unique exhibition audio producer tonwelt created an audio tour – so visitors gain knowledge 'directly' from the scientists of the Excellence Cluster Topoi. You can get interesting background information about 29 exhibits of different historical and geographical contexts. Interviews tell you stories of the cultural techniques of the ancient world and their importance for dealing with spatial phenomena at this time. 
Further, we offer a free app for the iPhone.  
In advance visitors get a vivid impression of the exhibition. In addition to the full audio guide in German and in English, the app also contains numerous pictures of exhibits and an interview with the curators.
If you want to know more about the work of audio producer tonwelt, click here (English).
Jenseits des Horizonts Beyond the Horizon
Exhibition on until September 30, 2012
Pergamonmuseum Berlin
Am Kupfergraben 5
10117 Berlin
–> Book accompanying the exhibition as online version.