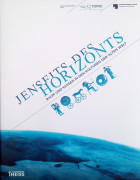 We proudly announce, that the book accompanying the exhibition / Jenseits des Horizonts / is now available for free download. Discover the world "Beyond the Horizon".
For everyone who wants to visit the exhibition, do so until September 30, 2012.
Pergamonmuseum Berlin (information in English).
Visit the exhibition's website (in German).
And also: ♥ us on Facebook !
Download
You may download the book accompanying the exhibition directly HERE [PDF, 20MB, 180 pages A4, in German].
[The online version of the book is copyrighted and any content may not be modified or used without prior written permission.] 
Hardcover
If you prefer a good old hardcover, you may order the book via:
Book accompanying the exhibition / Jenseits des Horizonts /
German, 176 pages, 130 pictures, published June 18, 2012
Konrad Theiss Verlag Stuttgart – ISBN 978 3 8062 2621 8