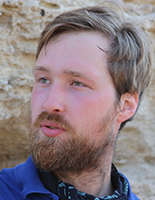 Philipp Pilhofer is research assistant at the Chair of Ancient Christianity at the Humboldt-Universität zu Berlin.
He studied Protestant theology at the universities of Münster, Vienna and Heidelberg. In 2012 he wrote his final thesis about the Martyrium Pionii in the context of martyr literature. He was a doctoral fellow at Topoi and has been participating within the doctoral programme "Ancient Languages and Texts" (ALT) of the Berlin Graduate School of Ancient Studies from 2013 to 2017.
Philipp Pilhofer finished his doctoral thesis on the history of early Christianity in the ancient region of Rough Cilicia, lying in today's provinces Mersin, Alanya, Karaman and Konya in southern Turkey. An important part of his thesis is a new edition of the greek Martyrdom of Konon from Bidana with a German translation, the first translation of this text into a modern language. The technical aspects of this edition are the reason for his involvement in digital humanities.
Activities
Reading Group

Organiser

Workshop

Organiser

Talk

Part of: Personale Autorität -- Persönlich

Speaker

Workshop

Organiser

Talk

Part of: Authority and Identity in Emerging Christianities in Asia Minor and Greece

Speaker

Talk

Part of: Kartographie in der Antike und in den Kulturen des Vorderen Orients

Speaker

Talk

Part of: Vortragskolloquium der Doktoranden des 3. Jahrgangs

Speaker

Lecture

Organiser

Workshop

Einführung in die Wort-für-Wort Glossierung mit praktischer Übung

Participant
Further Activities
 17.12.2014
Talk Das Christentum im Kalykadnos-Tal
Part of: Colloquium Neue Funde und Forschungen, FB Geschichts- und Kulturwissenschaften, Justus-Liebig-Universität Giessen
06.10.14-09.10.14
Conference Interdisciplinas – Interdisziplinarität als Chance und Problem in der altertumswissenschaftlichen Forschung, LMU München