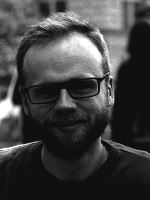 Mateusz Fafinski studied medieval history, classical philology, archaeology and Mediterranean culture in Poznań and Leeds as well as British studies at Humboldt-Universität zu Berlin. He has undertaken research stays and summer schools on the Faroe Islands and in Great Britain. In 2015 he received a doctoral fellowship by the Berlin Graduate School of Ancient Studies within the program Ancient Languages and Texts (ALT).
In the past he has worked on travel and trade in Early Medieval Northern Sea basin, as well as literary reception of classical archetypes in British literature.
He investigates the use of Roman assets (especially infrastructural ones) as governance resources in sub-Roman and early Anglo-Saxon Britain; the social impact as well as the role that the Roman infrastructure played in the Early Medieval economy and politics of the island make it a important but also rarely problematized topic. By combining historical and archaeological analysis with data analysis and modern presentation methods he hopes to help with understanding of this difficult and pivotal period of British and European history.
The results of the research will be made available not only through hard-copy publications but also through online maps and datasets and popular publications.
His investigations also contribute to the work of Topoi's research group (B-1) Routes-Water-Knowledge and project (B-1-3) Early Medieval Governance Resource.
More of his current research can be found on the personal research website under: https://mfafinski.github.io
Activities
Talk

Part of: Öffentliches Doktorandenkolloquium des Exzellenzclusters Topoi und der BerGSAS

Speaker

Talk

Part of: Nutzung und Umnutzung von Grundbesitz, Gebäuden und Infrastrukturen im römischen Imperium und danach: Historische, rechtshistorische und archäologische Perspektive

Speaker
Further Activities
21.09.2016 – 24.09.2016 Conference Darmstädter Diskussionen. 8. Interdisziplinäres Doktorandenkolloquium zu antiken Kulturen
at TU Darmstadt
Speaker
04.07.2016 – 07.07.2016 Conference International Medieval Congress 2016
at University of Leeds
Speaker
 24.02.-2016 – 26.02.2016 Conference The Ethnic and the Social: the Forms of Interplay and Conflicts
at Saint-Petersburg State University
Speaker