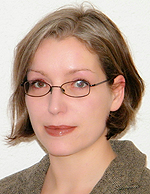 Kerstin Weber-Thum studied Egyptology, Sudan Archaeology and Theology in Berlin. Her major research interests are Northeast African Christian texts from the late-antique and medieval period (Coptic, Ancient Greek, Old Nubian).
After writing her master thesis on two Old Nubian manuscript fragments from the Nubian administrative centre of Qasr Ibrim (modern northern Sudan) containing parts of the biblical Book of Revelation, she now aims at gaining new insight into medieval-christian Nubia by focussing on its literary tradition. She currently writes her doctoral thesis on expressions of spatial and temporal perspectivation in Old Nubian biblical texts.
Kerstin Weber-Thum has been doctoral fellow at the Excellence Cluster Topoi and also has participated in the PhD program "Ancient Languages and Texts" (ALT) at Berlin Graduate School of Ancient Studies (BerGSAS).
Activities
Colloquium

Participant

Seminar

The Rosetta Stone - online

Participant

Workshop

Wiki(pedia)-Beiträge schreiben, durch Referenzen belegt und zitierbar, Textkodierung, Fußnoten, Bibliographie, Bildrechte, u.a.m.

Participant

Workshop

Organiser
Further Activities
| | |
| --- | --- |
| 2013 | Workshop Neurowissenschaften und Alte Sprachen, Workshop der Graduiertengruppe in der Topoi Forschergruppe (C-1) Deixis and frames of reference ; participant of discussion |
| May 2013 | Colloquium Nilo-Saharan Linguistics Colloquium in Cologne: paper presentation with Petra Weschenfelder at the panel "Issues in Old Nubian" |