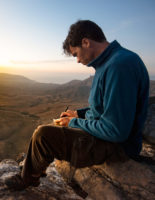 Julian van Rensburg is a Dahlem Research School POINT fellow at the Excellence Cluster Topoi with a project  "The landscape within: A multiscalar approach to space and place from a subterranean perspective." A multi-disciplinary, multi-period project that addresses issues of how caves and rock art have been used locally and regionally to create place from space, and what these places have come to represent from a cultural, ideological and socio-political perspective. This project forms part of my ongoing research that looks at the palimpsest of archaeological landscapes on Socotra from prehistory to the present.
Julian van Rensburg received his doctorate in September 2013 from the Institute of Arab and Islamic Studies at the University of Exeter. He was a also post-doctoral visiting research fellow at the Berliner Antike-Kolleg from September 2014 to January 2015. During this time he conducted research on the rock art site of Dahaisi cave located on the island of Socotra. He was subsequently awarded a National Geographic / Waitt Foundation grant that allowed him to lead an expedition to continue this research and fully document the rock art.
He hold positions on the steering committee for the Seminar for Arabian Studies and am the Secretary for the Friends of Socotra.
His research interests include rock art studies, GIS applications in archaeology, landscape archaeology, island and coastal archaeology, Indian Ocean trade networks in Antiquity and the Islamic Period, and cultural heritage management.
Activities
Talk

Part of: Signs of Place: A Visual Interpretation of Landscape

Speaker

Talk

Part of: Signs of Place: A Visual Interpretation of Landscape

Speaker

Conference

Organiser