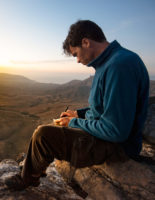 Julian is the Project Leader for the British Council Cultural Protection Fund project "Integrating Soqotra's cultural heritage into conservation". A project that is documenting Soqotra's threatened tangible and intangible cultural heritage and training Soqotri women and men to record, manage and conserve their cultural heritage.
Julian was a Dahlem Research School POINT fellow at the Excellence Cluster Topoi (2016-2017), with the project  (Z-COFUND-11) The landscape within: A multiscalar approach to space and place from a subterranean perspective. A multi-disciplinary, multi-period project that addresses issues of how caves and rock art have been used locally and regionally to create place from space, and what these places have come to represent from a cultural, ideological and socio-political perspective.
During September 2014 to January 2015, he was a post-doctoral visiting fellow at the Berliner Antike-Kolleg, (Freie Universität Berlin). In this post he had been conducting research on a number of rock art sites located on Soqotra.
In 2015, he was awarded a National Geographic / Waitt Foundation grant to lead an expedition to fully document and date rock art found within Dahaisi cave, on the island of Soqotra.
In 2014 he was awarded funding from the Honor Frost Foundation to undertake research into the tangible and intangible maritime heritage of the fishing communities in Anfeh, Lebanon. This three-week research project included a two-day maritime ethnographic workshop for Lebanese students and members of local NGOs. The workshop was used to train the participants in quantitative and qualitative techniques of maritime ethnography and traditional vessel recording. This research formed a part of the wider Anfeh Project being run by the University of Balamand.
He received his doctorate in September 2013 from the Institute of Arab and Islamic Studies at the University of Exeter. His research was funded by and formed part of the MARES Project, a multi-disciplinary, multi-period project focusing on the maritime traditions of the peoples of the Red Sea and Arabian-Persian Gulf. His research project utilised a cross-disciplinary methodological approach that integrated ethnographic data with historical, archaeological and environmental data. This allowed him to identify how local, regional and global influences have, over time, influenced the traditions and technologies of the maritime communities on the island of Soqotra, Yemen.
Julian is the Chairman for the Seminar for Arabian Studies and the Friends of Soqotra. He is also the Assistant Editor of the Proceedings of the Seminar for Arabian Studies.
Further Information
The Soqotra Heritage Project funded by The British Council Cultural Protection Fund
Activities
Talk

Part of: Signs of Place: A Visual Interpretation of Landscape

Speaker

Talk

Part of: Signs of Place: A Visual Interpretation of Landscape

Speaker

Conference

Organiser