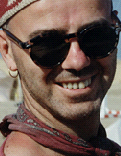 Geoffrey Tassie's research interests lie predominately in socioeconomic transformations in prehistoric North-east Africa, especially the Palaeolithic to Early Bronze Age. As part of this research he is particularly interested in environmental change and human adaptations as well as Egyptian inter-regional relations. Other research interests include: the body in ancient Egypt (gender, hair, clothing and cosmetics); cultural heritage management (CHM); archaeological method, theory and practice; and artefact studies and analysis.
From 2005 until the present he has been the assistant director of the EES Delta Survey of the Minufiyeh Governorate, which is surveying and evaluating sites in the Central Delta and involves the investigation of an Old Kingdom mastaba tomb, a sacred animal necropolis as well as a Ptolemaic-Roman cemetery. In addition to writing over 70 publications, he has devoted his time over the last 10 years to tackling issues of cultural heritage management. In 2001, he contributed to A Strategic Approach to Egyptian Cultural Heritage Management — a report sponsored by UNESCO WHC and UNDP — and participated in the development of an action plan for the management of the sites in the St. Katherine Monastery area, recently declared a World Heritage Site. From 2003 to 2008 he undertook a survey and compilation of SMRs for the Faiyum as part of the UCL Holocene Environmental Change and History of Water Management in the Faiyum Depression.
Since spring 2013 Geoffrey Tassie has been assistant director on a new prehistoric survey project (archaeological and environmental) in the region between Khatabah and Merimde Beni Salama (Egypt Exploration Society Imbaba Governate Prehistoric Survey) along the western edge of the Nile Delta directed by Prof. Joanne Rowland. This project is related to his Topoi research project "The movement of peoples and the transition to a food producing economy in the western Nile Delta (with focus on Merimde Beni Salama): (re)evaluating the data within its wider socio-economic, geographic, environmental and modern research contexts" which is part of research group (A-2) Political Ecology of non-sedentary communities and research project (A-2-4) The Neolithic in the Nile Delta.
Activities
Talk

Part of: Revolutions. The Neolithisation of the Mediterranean Basin: The Transition to food Producing Economies in North Africa and Southern Europe

Speaker

Workshop

Organiser

Talk

Part of: On the Road — Bioarchaeological and Cultural Scientific Aspects of Non-Sedentary Communities

Speaker
Further Activities
9.11.2013 Speaker The Old Kingdom mastaba at Quesna, Minufiyeh Archaeological Survey
Part of: Research Day at the Egyptian Embassy Berlin, Cultural Department and Study Mission (Berlin / Germany)
21.5.2013-22.5.2013 Speaker The History and Research of the Naqada Region Collection
Part of: UCL Annual Conference: Forming Material Egypt
27.9.2012 Speaker The Neolithisation of Egypt
Lecture at the Netherlands-Flemish Institute in Cairo (NVIC) (Cairo / Egypt)
2006-2010 Project Director The Cataloguing of the Naqada Regional Survey and Excavation Project (London / England).
since 1995 Site Supervisor Kafr Hassan Dawood.