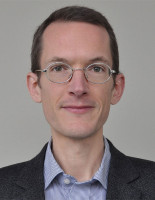 From 2008 to 2012 Jan Stenger was Junior Professor of Classical Philology in the Excellence Cluster Topoi at the Freie Universität Berlin. Since 2012 he has been Professor of Greek at the University of Glasgow.
In Topoi he was working with an interdisciplinary graduate group on the question of how spatial relations are expressed in ancient languages and to what extent linguistic universalia manifest themselves in these expressions. His research projects deal with literary constructions of urban space and countryside in late antiquity, and with the uses of spatial metaphors in Christian exegesis and preaching.
As a Topoi Fellow in summer 2015 he analysed the ways in which Greek Church Fathers explain Biblical metaphors and employ spatial metaphors in their discussions of doctrine and religious ethics. During his fellowship in summer 2017, Jan Stenger studied pagan and Christian authors of the fourth and fifth centuries CE (among others Libanius, Themistius, Augustine and Macrobius), with a focus on the nexus of, on the one hand, ideals and practices of education and, on the other, the spatial context.
Activities
Talk

Part of: Paths of Knowledge in Antiquity

Speaker

Talk

Part of: RAUM . Topoi Jahrestagung 2015

Speaker

Talk

Part of: Ancient Identities and Modern Identification: Space, Knowledge and Representation

Speaker

Seminar

Speaker

Talk

Part of: Die Semantik urbaner Räume in der Spätantike: Der Beitrag des Christentums zur Transformation der Stadt

Speaker

Talk

Part of: Die Semantik urbaner Räume in der Spätantike: Der Beitrag des Christentums zur Transformation der Stadt

Speaker

Talk

Part of: Die Semantik urbaner Räume in der Spätantike: Der Beitrag des Christentums zur Transformation der Stadt

Speaker

Conference

Organiser

Talk

Part of: Space and Metaphor in Cognition, Language and Texts

Speaker

Part of: "Cityscaping'. Constructing and Modelling Images of the City in Literature, Film and Art

Chair

Talk

Part of: "Cityscaping'. Constructing and Modelling Images of the City in Literature, Film and Art

Speaker

Conference

Organiser

Talk

Part of: Genealogie und Migration. Antike Wanderungsmythen

Speaker

Conference

Speaker

Talk

Part of: Die Vermessung der Oikumene

Speaker

Conference

Speaker

Talk

Part of: Genealogie in Religionen und Kulturen des Altertums

Speaker

Conference

Speaker

Talk

Part of: Spaces of Communication in the Early Principate

Speaker

Conference

Chair, Speaker

Talk

Part of: Sprachliche Diversität und das Problem des Übersetzens von räumlichen Relationen

Speaker

Workshop

Organiser, Speaker

Talk

Part of: Urban Topography as a Reflection of Society: Language, Image, Archaeology

Speaker

Workshop

Speaker

Talk

Part of: Area C - Presentation of current Research Topics

Speaker

Lecture

Speaker

Talk

Part of: Rom und Mailand in der Spätantike

Speaker

Conference

Speaker