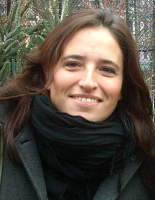 Micaela obtained her Laurea (BA and MA) at the University of Florence, Italy, Department of History and completed her MA education with studies at Royal Holloway, University of London. She holds a specialization in archaeological analysis of buildings carried on at the University of Siena, Italy. In 2014 she obtained a PhD from Cardiff University with a thesis entitled Settlement in Crusader Transjordan, 1100-1189. A Historical and Archaeological Study, supervised by Professor Denys Pringle and supported by numerous awards, including the Arts and Humanities Research Council. She is currently co-editing a book on the Archaeology and History of the Crusader period in the Middle East and she directs the Islamic Bayda Project, where she carries on archaeological investigations of an Islamic-period village in Petra, Jordan.
One of her main research interests is the understanding of settlement patterns in Petra during the medieval and later periods, when the focus of settlements in the region gradually moved from the Petra valley to areas outside it. In order to have a more high-resolution understanding of the transition between these different settlement models, she has designed a method for chronologically framing the substantial evidence of Islamic-period occupation in the Petra region, mainly consisting of ceramic remains, in collaboration with several international teams working in Petra. Moreover, settlement patterns in the Petra region are currently investigated by excavations at the site of Islamic Bayda, Petra region, which she directs.
The project to be carried on at Topoi are the Islamic-period phases of a site in the Wadi Farasa, Petra valley, investigated by excavations led by Stephan Schmid. It is framed within the research project (A-1-2) Besiedlungsstrategien in und um Petra (Jordanien), which is focused on the theme of understanding settlement strategies the Petra region.