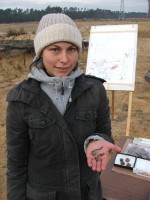 Deborah Schulz is a Topoi doctoral fellow and a member of the Berlin Graduate School of Ancient Studies (BerGSAS) in the PhD program "Landscape Archaeology and Architecture" (LAA). She studied prehistoric and classical archaeology at the Humboldt-Universität zu Berlin and spent one semester at the James Cook University in Townsville/AUS before she received the M.A. degree in 2006.
Currently she is working on her doctoral thesis on the topic "the cemetery from Jänschwalde in lower Lusatia. Research on cemeteries, preserved in layers, of the Late Roman Iron Age and Migration Period". (german title: "Das Gräberfeld von Jänschwalde in der Niederlausitz. Untersuchungen zu Schichtgräberfeldern der jüngeren Römischen Kaiserzeit ind Völkerwanderungszeit").
Her interests are landscape archaeology, geoarchaeology and pedology.
Activities
Talk

Part of: LAA zu Gast…

Speaker

Lecture Series

...bei dem Kolloquium des Instituts für Prähistorische Archäologie

Organiser

Talk

Part of: Forschungskolloquium LAA

Speaker