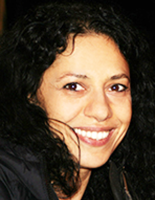 Martina Renzi holds an M.A. in Conservation of Cultural Heritage from Viterbo University (Italy) and a PhD in Research Strategies in Prehistory from Complutense University of Madrid (Spain). Her main research field is Archaeometallurgy; she applies analytical techniques to the study of ancient metallurgical materials and metals from different geographical areas and chronologies, focusing especially on the Early Iron Age.
From June 2008 until February 2013 she worked as a researcher in Archaeometallurgy at the Centre for Human and Social Science of the National Spanish Research Council (CCHS-CSIC) in Madrid (Spain).
In April 2013, thanks to a DRS-COFUND Marie Curie fellowship, she started her research in the same field at the Excellence Cluster Topoi, where she worked until March 2014. From then until now, she has been working at UCL Qatar, Doha, carrying out a research project on Iron Age metal production in the Arabian region and the Levant, sponsored by the Qatar National Research Fund.