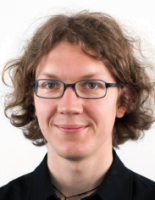 Christian Pfeiffer studied philosophy and ancient Greek at Humboldt-Universität zu Berlin, Freie Universität Berlin and the University of Edinburgh. He received his Magister Artium in 2008. Following this he  joined Topoi as a doctoral fellow with a research stay in Princeton. His dissertation "Aristotle's Theory of Bodies" which was written under the supervision of Jonathan Beere, Benjamin Morison and Christof Rapp is being published by Oxford University Press. He teaches at Ludwig-Maximilians-Universität in Munich as a research assistant.
His research interests are ancient philosophy, in particular Aristotle as well as contemporary metaphysics and philosophy of language.
His research projects deal with the release of investigations on Aristotle's physics and metaphysics.
For more information visit his personal website at uni-münchen.
Activities
Talk

Part of: "Karrieretag Altertumswissenschaften 2018" der BerGSAS

Speaker

Talk

Part of: Topoi Jahrestagung

Speaker

Workshop

Organiser