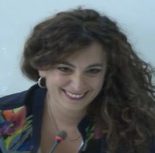 Anna Motta has obtained her Degrees in Classical Studies and Ancient Philology at the University of Naples Federico II (2006 and 2008) and her PhD in Philosophy at the University of Salerno (2012). She spent part of her doctoral course at the Graduate School of Ancient Philosophy at the Humboldt-Universität zu Berlin (2010-2011) and she won a research scholarship at the Fondation Hardt (Vandœuvres – Switzerland) in November 2015. She is "Cultore della Materia" at the chair of Ancient Philosophy at the University of Naples "Federico II". Since November 2015 she has held a fellowship at the Dahlem Research School of the Freie Universität Berlin in the focus area of the Excellence Cluster Topoi.
Her research field is addressed to Ancient and Late Antique Philosophy. The historical development of philosophy has influenced her since she has started to study texts which read and explain the birth of Platonism from the dialogue of different philosophies.
At Topoi she carries out her research in studying the Proclean Commentary on Plato's Timaeus and especially the relationship between nature of the cosmos and nature of the account in Neoplatonism, by discussing the role of nature in the Neoplatonic macrocosmos-universe and microcosmos of dialogues.