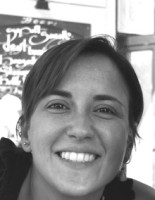 Simona Mileto started her PhD in Topoi, research group (A-2) The Political Ecology of Non-sedentary, in November 2012. Her research focuses on the analysis of organic residue extracted from ancient ceramics that have come from several prehistoric settlements in the Dnepr region of the Ukraine, with the purpose to investigate both the variations in food processing and the human palaeodiet. As a member of Topoi she is based at the Freie Universität Berlin for the theoretical part of the project, but she is conducting analysis of organic residue at the University of Bristol.
Simona studied Science and Technology for the Conservation and Restoration of Historical and Artistic Heritage, an inter course between the Faculty of Mathematical and Physical Sciences and the Faculty of Letters and Philosophies at the University of Perugia, Italy. Following this particular course of study allowed her to develop and acquire scientific and artistic/cultural competence both incredibly useful for working in the cultural heritage diagnostic and archaeometry fields.
Simona Mileto has also participated in the PhD program "Landscape Archaeology and Architecture" (LAA) at Berlin Graduate School of Ancient Studies (BerGSAS).
Activities
Colloquium

Diet and mobility patterns in a heterogeneous cultural landscape in northern Scandinavia

Organiser