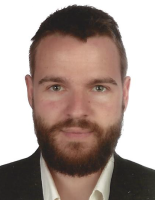 Felix Levenson studied Scientfic Study of Religion (B.A. 2010) and Middle Eastern Archaeology (M.A. 2013) at the Freie Universität Berlin. During his studies he worked at excavations in Syria, Azerbaijan and Saudi-Arabia.
He is currently working on his PhD on big and specialiced buildings in late 4th mil. BCE Uruk/Iraq.
In 2014 he joined Topoi as a coordinator in research area (B) Constructing Historical Space.
Activities
Workshop

Organiser

Talk

Part of: Groß Bauen. Großbauten und Großbaustellen von der Antike bis zur Gegenwart

Speaker

Lecture

The Cave of Anba Hadra at Dayr Anba Hadra

Organiser

Lecture

The Energetics of Construction

Organiser