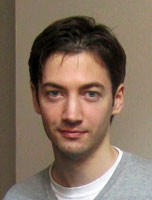 Lennart Griese studied law at Freie Universität Berlin. His studies focused on the history of Roman and Medieval law, the philosophy of law and the sociology of law. The thesis he completed in this context deals with the legal institution of the treasure trove in Roman law. From 2008 to 2009, he supported the project "Roman Law in Latin Instruction" of Cosima Möller, which featured a focus on Roman family law. After the first state examination in law in 2010, he completed his legal internship from 2011 to the beginning of 2013 at the Berlin Appellate Court, which he completed with the second state examination in law.
Since March 2013, he has been studying the legal form of land use in the colonies and in the province of the Roman empire for his dissertation and as part of the the project (B-1-4) Infrastructures from judicial, gromatic and political perspectives.
Lennart Griese also has participated in the PhD program Ancient Languages and Texts (ALT) at the Berlin Graduate School of Ancient Studies (BerGSAS).
Activities
Talk

Part of: Nutzung und Umnutzung von Grundbesitz, Gebäuden und Infrastrukturen im römischen Imperium und danach: Historische, rechtshistorische und archäologische Perspektive

Speaker