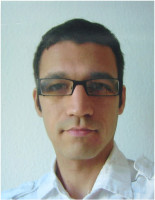 Iván Fumadó Ortega studied History and Archaeology at the University of Valencia and at the University of Bologna. He had completed his PhD on Carthaginian urban morphology and soil uses management (8th – 2nd centuries BC) at the Spanish School for History and Archaeology at Rome and in the Royal Spanish Academy at Rome during 2005-2009. In May 2011 he was awarded a post-doctoral fellowship of the Spanish Foundation for Science and Technology within the framework of the Excellence Cluster Topoi at the German Archaeological Institute, Berlin Head Office.
In this context he conducted research on the cultural transformations of ancient societies in the South of Pre-Roman Iberian Peninsula and North Africa. Special attention was paid on the constitution of power discourses within mixed communities and how they use and re-define space and landscape simbolic meanings. His further interests lied in the fields of modern representations of Phoenicians, Punics, Mauritanian and Iberian ancient groups.
In 2015 he began a post-doctoral fellowship at  Aix-Marseille Université.
Activities
Reading Group

Participant