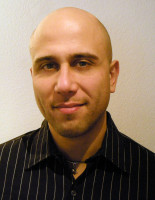 Dr. Capozzoli is currently a post-doc fellow of the Maison René Ginouvès (CNRS-Université Paris I-Université Paris Ouest Nanterre La Défense-Ministère de la Culture), as part of the Research in Paris 2011 – 2012 program organized by Mairie de Paris, where he is pursuing a project on terracotta roof tiles from the archaic and classical periods in Apulia and Lucania ("Elaboration et diffusion des terres cuites architecturales grecques en pays indigene (Basilicate et Apulie) – VIe-Ve siècles Av. J.-C.").
In 2009 he was awarded a six-month junior fellowship at the Freie Universität Berlin in the Excellence Cluster Topoi for the following project: "Grenze der Stadt: Zwischen religiösen Verboten und sakraler Bedeutung. Der Fall der athenischen Stadtmauer von der archaischen bis zur spätklassischen Zeit."
His research interests center primarily on topography and architecture in the military and private sector. He is also actively involved in field research in Italy (both excavation and surveying).

Current Research
The Paris project was occasioned by the unique find made by the Università degli Studi della Basilicata in the Summer of 2008 at Torre di Satriano (in the modern-day province of Potenza), a find which brought to light a complex of an extraordinary character. The artisans who built this complex left behind such a multitude of inscriptions–on all of the cornices and some of the frieze panels–that no doubt remains as to their "identity": the alphabet is indisputably Laconian-Tarantine, thus enabling us to identify Tarentum as the hometown of the artisans who oversaw production of the terracotta roof tiles in loco.
Discoveries such as this allay many doubts surrounding the position of these terracotta tiles within the handcraft tradition and allow us to open a "new chapter" in the ongoing, controversial debate on the relations between the apoikiai of the Ionian coast and the indigenous mesogaia.
The main objective of the project is to attribute or "give back" to Laconia-Tarentum–a general term encompassing Sparta and its apoikia–a whole series of terracotta products whose origins are still being debated, or that have been attributed to earlier Achaean colonists (such as the terracotta frieze of Braida di Vaglio).