Ian Hodder (Stanford)
Keynote Lecture im Rahmen der Tagung "Times of Change: The Turn from the 7th to the 6th Millennium BC in the Near East and Southeast Europe" (25.-26. November 2011)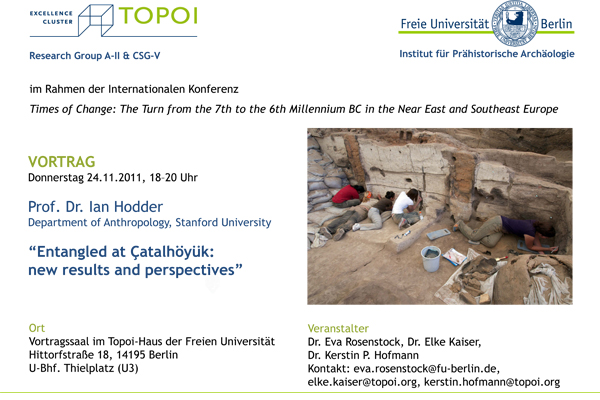 Stefan Schreiber had studying Pre- and Protohistoric Archaeology, Medieval History and Medieval German Literature and Language at Humboldt University Berlin. In 2010 he wrote his M.A. thesis on the subject of "'Kulturelle Aneignungen' als Strategien des Umgangs mit Dingen. Archäologische Betrachtungen zu einem kulturanthropologischen Modell" ('Cultural appropriation' as a strategy of the handling of things. Archaeological reflections on a cultural anthropological model). Currently, he is working on his doctoral thesis on the topic "Wenn Dinge wandern: 'Römische Funde' in consumptionscapes, communities of practice und identity spaces im Barbaricum" (Shifting Things: "Roman" finds in the Barbaricum in consumptionscapes, communities of practice and identity spaces). His interests are archaeological and anthropological theories, material culture studies, gender theory, culture contact situations and agency theory. Epistemologically, he argues from a constructivist and posthumanist point of view.
Peter Zweigler studied Archaeology at Humboldt University in Berlin. He wrote his master's thesis about the professionalization of public relations in German historic preservation agencies (i.e. Landesdenkmalämter). He is a member of the discussion group about Theoretical Archaeology of the Cross Sectional Group V "Space and Collective Identities" at the German Archaeological Institute.
Within her research project on geometric and archaic bronze finds in Olympia Susanne Bocher is studying how early Greek sanctuaries were organized and how they were influenced by local and regional impacts. Especially religious activities involving votives and rituals as well as their impact on the formation of collective identities are in her focus.
Susanne Bocher studied Prehistoric and Classical Archaeology as well as Geology at the Eberhard-Karls-University Tübingen and the University of Crete. Her PhD on geometric sheet-bronzes of Olympia was completed in 2010 and defended at the Ruprecht-Karls-University of Heidelberg. Since 2004 she has been working for the Olympia-Project at the German Archaeological Institute. Her current research project on early votives and their religious interpretation in the sanctuary of Olympia is part of the Project 'Olympia and its environment'.  Since 2010 she is also involved in the Kalaureia-Project of the Swedish Institute in Athens, where she is studying and interpreting the metal finds.
Geschichte
Der Burgwall von Lossow wurde als befestigte Siedlung in der späten Bronzezeit auf einem markanten Hochufer an der Oder errichtet (12. Jh. v. Chr.). Nach dieser Nutzungsphase etablierte sich auf gleichem Platz ein früheisenzeitliches Kultzentrum (8.-6. Jh. v. Chr.), dessen Bedeutung und Außergewöhnlichkeit sich durch die Befunde von über 60 lokalisierten, bis zu 8 m tiefen sog. Opferschächten auszeichnet, die mit Menschen- und Tierskeletten verfüllt waren. Es ist davon auszugehen, dass der Burgwall bereits als befestigte Siedlung in der späten Bronzezeit Zentralortcharakter besaß, der mit dem Funktionswechsel zum Kultplatz in der frühen Eisenzeit neue Dimensionen und Inhalte erhielt.
Ziele
Die Ziele des Forschungsprojektes "Lossow" ergeben sich aus dem bisherigen ungenügenden Forschungs- und Wissensstand zu diesem bedeutenden Fundplatz. Zentrales Anliegen des Projektes ist es, in interdisziplinären Untersuchungen die Voraussetzungen und Gründe herauszuarbeiten, die zur Herausbildung des Zentralortes und seinen Funktionen führten. So stehen zum einen Fragen nach der bronzezeitlichen Burgwallsiedlung im Mittelpunkt der Untersuchungen (Innenbebauung, Nachweise von wirtschaftlichen/handwerklichen Tätigkeiten, zentralörtliche Funktionen). Zum anderen ist bis heute nicht geklärt, wie es zur Entstehung des Kultplatzes in der frühen Eisenzeit kam und ob es beispielsweise neben den Opferschächten andere Neben- oder gar Kultbauten gegeben hat. Ebenso wurde die umfassende Analyse des siedlungsgeschichtlichen Umfeldes der Anlage bisher vernachlässigt, so dass über die regionale Einbindung des Burgwalls kaum Aussagen getroffen werden können.
Vor diesem Hintergrund wurden 2008/09 archäologische Untersuchungen im Burgwallinnenbereich sowie im Frühjahr 2009 auch im Burgwallaußenbereich durchgeführt. Hier konnte die zum bronzezeitlichen Burgwall zugehörige Vorburgsiedlung lokalisiert und in einem ersten Ausschnitt archäologisch untersucht werden. Zudem befinden sich in unmittelbarer Nähe mindestens ein zeitgleiches Gräberfeld und weitere offene Ansiedlungen. Auch diese archäologisch bedeutsamen Fundplätze werden in die weiteren wissenschaftlichen Untersuchungen zur komplexen Beurteilung eines Zentralortes einbezogen.
Publikation
Erste Ergebnisse der umfassenden Prospektions- und Grabungstätigkeiten sind bereits aufgearbeitet und zur Publikation in der neu gegründeten Publikationsreihe Lossower Forschungen Bd. 1 vorgelegt worden (Beilke-Voigt, I./Schopper, F. (Hrsg.), Lossow – Alte Forschungen und neue Projekte. Materialien zur Archäologie Brandenburgs Bd. 4. Lossower Forschungen Bd. 1 (Rahden/Westf. 2010).
The Lower Kaikos Valley, situated in Western Turkey, is an interesting landscape in which to investigate the development and transformation of central places. In prehistoric times, the region had a decentralized settlement structure. By Hellenistic times, an advanced net of central places had developed around the central places of Atarneus and Pergamon. One of the main topics of research is the connection between the system of the Kaikos river as an important communication line and the rise and fall of Atarneus and Pergamon as important Hellenistic central places. One of the most prominent questions is whether the Greek geographer Strabon was wrong when he stated that Kaikos entered into the Aegean Sea near Atarneus, because the recent river mouth is located about 20 km southeast of this location. Did the mouth of the Kaikos river system change its location within the Late Quaternary? And how did landscape evolution and human settlement activity interact? To answer these questions, the project includes sedimentary and geomorphological investigations and integrates archaeological research. As a result, ongoing sediment analyses focus on the identification of different deposit forms and on human impact.