Databases in Topoi
The networking of the sciences and humanities within the Excellence Cluster Topoi requires a common work and discussion platform, as well as data-sharing capabilities. At the same time, because of the considerable number of project participants distributed across a large geographical area, online access to various databases is a must. This challenge is being faced in Topoi by the administrative area "GIS and Databases", which has developed the following concept:
Due to cooperation with the German Archaeological Institute (DAI), a highly developed Basis database for archaeological field research projects (iDAI.field) has been made available for use within the Cluster. At the same time, the opportunity is being seized to work together on the further development of the DAI database and to make it available via the internet. It is also Topoi's intention to promote further development and shared usage of IT infrastructure elements in the future.
iDAI.field and Topoi
Adaptation and integration of the database to suit Topoi's overall IT structure will take place in three phases (Fig. 1):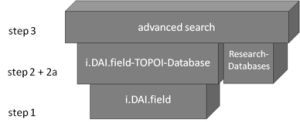 Step 1: A clone model of iDAI.field is made available to the research groups. This Basis-Database can be modified or adjusted to meet the requirements of the individual research projects.
Step 2: iDAI.field is further developed for Topoi. First and foremost, an XML interface is defined and implemented, and web interfaces are programmed.
Step 2a: Other research databases within Topoi are likewise equipped with XML interfaces, so that the XML dumps of various output systems (archaeological and non-archaeological) can be queried jointly (Fig. 2).
Step 3: the final expansion phase allows Topoi's shared data stores to be connected with each other and with the databases of project-related institutes and cooperating organizations via a unified XML interface.

iDAI.field and Topoi-specific extensions are being developed by means of Open-Source Software, especially PostgreSQL, which allows for efficient management of spatial data, while also meeting digital sustainability requirements, due to its format.
In the final development phase, a web-based Graphical User Interface (GUI) is created, which facilitates easy global access to all of the relevant research databases within Topoi. Access and privileges are defined by a Topoi-member account.
Status Quo
The primary goal at first was to provide a data management tool to all research groups requiring a database or data connection, in order to ensure efficient and high-quality research work. As the project has progressed, these tasks have largely been completed. By the end of the project, the maintenance and further small-scale development of the research databases will be taken over by Topoi. Because of the software used, these databases are located on various servers (MySQL, FileMakerServer), thereby ensuring central and time-independent access for all research group members. The development of Topoi's iDAI.field database takes place in development phases 2a and 3. Testing will be conducted at first on research databases which have been made available to Topoi via Open Access.
Development and Expansion
Above all, because of the diversity of the data in question, an interdisciplinary database like iDAI.field Topoi requires a complex concept for successful data management and retrieval.
A data model that has been in use for several years, primarily in museum management, and that seems particularly well suited to Topoi's needs is the so-called "CIDOC Conceptual Reference Model (CRM)" (http://www.cidoc-crm.org/). In cooperation with the DAI, plans are already being made to implement this model. A first step towards achieving this goal was taken in 2009, when researchers from various fields were invited to Berlin for an international conference addressing issues involving implementation of the system. Since then, intensive contact has been maintained regarding the project "WissKI", which on the basis of both Open-Source Tools and CIDOC-CRM has led to the development of a communication infrastructure for research institutions (http://wiss-ki.eu/).
As part of the further development of iDAI.field, the DAI plans to create a Web-GIS interface from which Topoi, as a partner closely integrated in the development process, will also benefit greatly.
Author: Undine Lieberwirth